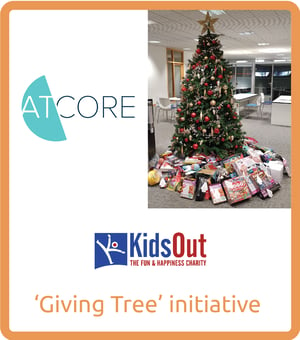 This Christmas the ATCORE Group is supporting the Kids Out Giving Tree Initiative, providing gifts for children who are in living in refuges over the festive period.
While kids all over the country receive dozens of gifts during the holiday season, children living in a refuge may not even expect to have one. They have left their homes, toys and all that is familiar. KidsOut believes that these children deserve more and, through the Giving Tree, work to give them a Christmas to remember. Thanks to all the donations from companies and individuals KidsOut is able to distribute a toy to every child in a Women's Aid Federation refuge during the festive period.
With the company matching employee donations together we will be sending nearly 200 gifts to hostels across the UK to help make Christmas that little bit better.